A Feast of Funding
2018 and early 2019 were especially fruitful for Stowers scientists in training. Four predoctoral researchers in the Graduate School and one postdoctoral researcher in the Gibson Lab were awarded competitive fellowship and grant funding from the National Institutes of Health.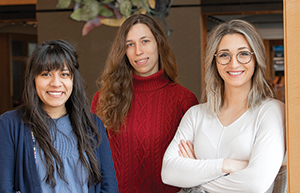 Nicole Nuckolls was awarded a two-year fellowship from the Eunice Kennedy Shriver National Institute of Child Health and Human Development. Her research will examine a class of genes called killer meiotic drivers. This class of genes acquired its name because these genes bias their own transmission to gametes (such as eggs and sperm) by poisoning all gametes but rescuing only the gametes that inherited them during the process of meiosis. Nuckolls's goal is to use yeast to identify the mechanism that enacts the poison-antidote meiotic drive. This research may lead to a better understanding of the origins of infertility.
María Bravo Núñez received her six-year award from the National Cancer Institute. It will support her work focused on identifying mechanisms that cause aneuploidy and infertility. Aneuploidy is a condition in which errors in chromosome segregation generate cells with too many or too few chromosomes. This condition is the leading cause of infertility and congenital birth defects such as Down syndrome.
Specifically, Bravo Núñez will investigate whether genetically parasitic genes contribute to errors in chromosome segregation.
Irina Pushel received a three-year fellowship award from the National Institute of Dental and Craniofacial Research for a project that aims to establish the Hoxa2 gene's activity in craniofacial neural crest cells (cNCC) in a mouse model system. This cell type originates in the brain during early development. From there, cNCCs migrate out and give rise to bones, tissues, and nerves of the head. When there are disruptions in this process, craniofacial defects and disorders can occur. Pushel plans to identify the relationships between certain genes involved in this process so that she can bring greater understanding to the related human process.
Cassandra Kempf also received a three-year award. The award from the National Institute of General Medical Sciences funds her research of the Sin3 complexes. These protein complexes have been linked to cancer and neurological disorders. Kempf aims to identify direct interactions of these proteins, some of which may likely be competing for the same interactions in the same cell, using biochemical and quantitative imaging techniques and then build a model of the protein interaction network whereby direct interactions can be defined in a systematic way.
Eric Hill, PhD, was awarded a two-year fellowship through the National Institute of General Medical Sciences. He received funding for a project that will examine the similarities and differences between the developmental and the regenerative organ formation in the starlet sea anemone, Nematostella vectensis. The sea anemone is well-suited for this project because all organs are formed through normal embryonic development but can also fully regenerate following removal in the adult anemone. Better understanding of this function may reveal deep insights into natural mechanisms that underlie whole-organ regeneration.